---

GRAFFITI -- December 28, 2009 thru January 03, 2010

Last Week << Mon Tues Wed Thu Fri Sat Sun >> Next Week

---

---

Welcome to Orb Graffiti, a place for me to write daily about life and computers. Contrary to popular belief, the two are not interchangeable. About eMail - I publish email sometimes. If you send me an email and you want privacy or anonymity, please say so clearly at the beginning of your message.






---
MONDAY Tues Wed Thu Fri Sat Sun
December 28, 2009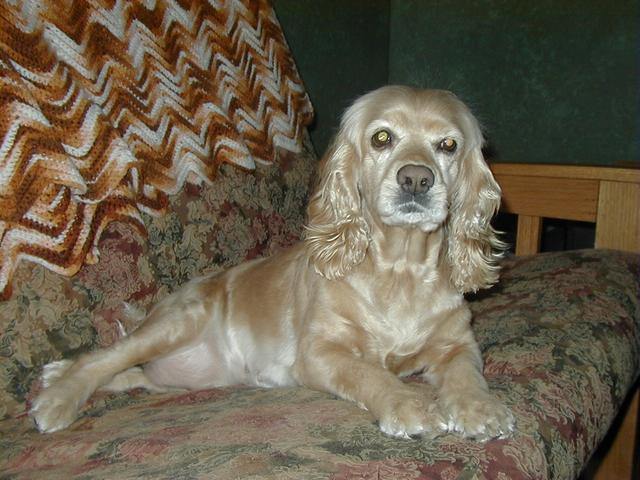 1430 - On December 7, six years ago, Lucy Mae the spaniel came to live with us and keep our older dog, Sally, company during her last few months. Today, following a chest infection, more of her extreme "I'm an old dog" symptoms of general decrepitude, and a stroke in the last day or two, we had to let our second little dog go. I was up most of the night with Lucy. We couldn't keep food or water in her the last couple of days, and she'd started refusing it altogether. When we thought about it this morning, we recalled hauling Sally back from the edge following her stroke ... but overall, she was much healthier than Lucy's been, and we saved Sally for our benefit, not hers. We had a few hours to think about it this morning before going to the vet, and while they offered the same possibility - that she might recover - we already knew that Lucy was having more bad days than good, and it wasn't going to be enough better for her, just so that we could keep her along for the ride. So we sent her on to keep Sally company, again. Bye, little puppy.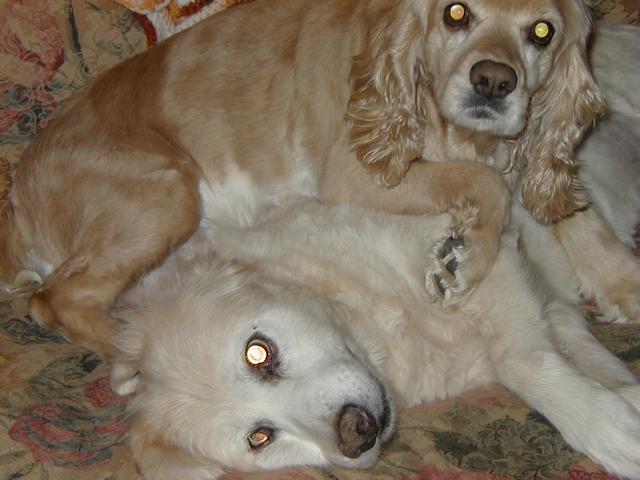 ---
Mon TUESDAY Wed Thu Fri Sat Sun
December 29, 2009
No Post..
---
Mon Tues WEDNESDAY Thu Fri Sat Sun
December 30, 2009
No Post...
---
Mon Tues Wed THURSDAY Fri Sat Sun
December 31, 2009
1127 - Happy New Year's Eve, folks! And a full moon, blue, too? How lucky are we? Anyway, I've been preoccupied and busy. Yeah, we miss Lucy, rather a lot. Molly's working hard to fill in the gaps, though. I finished up reading Coders at Work last night. It's a good read for anyone interested in software and some of the history thereof. The day started at 0130 with an hour's worth of diagnostics on a piece of software that only misbehaves in the middle of the night. Then I got another 3 hour's sleep before being just about solo for most of the day today. Busy, busy. Ciao!
---
Mon Tues Wed Thu FRIDAY Sat Sun
January 1, 2010
0658 - Well, as long as I'm up and here: Happy New Year! I've been dealing with a page from a machine which is working fine, but has expired credentials making a specific test fail. Yay! So I've disabled the test as an interim solution. I think I'll go back to sleep. Ciao!
---
| Month | Jan | Feb | Mar | Apr | May | Jun | Jul | Aug | Sep | Oct | Nov | Dec | Annual |
| --- | --- | --- | --- | --- | --- | --- | --- | --- | --- | --- | --- | --- | --- |
| "normal" | 3.2 | 2.8 | 3.5 | 3.6 | 4.1 | 3.9 | 4.2 | 4.6 | 3.7 | 3.3 | 3.3 | 3.1 | 43.3 |
| 2008 | - - | - - | - - | 4.60 | 9.22 | 5.02 | 3.72 | 1.86 | 4.28 | 1.07 | 2.77 | 2.90 | 35.44* |
| 2009 | 2.72 | 0.32 | 2.60+ | 4.74 | 8.42 | 6.98 | 1.12 | 3.70 | 3.00 | 6.20 | 4.40 | 6.80+ | 51.0 |
Row 1 - Normal rainfall Glenn Dale Bell Station, 1921-1987
* Only nine months measured in 2008;
+ : includes estimate from snowfall
0951 - Well, I didn't get much more sleep, but I've had food and coffee now. As I drifted past my office, I decided I'd better reset the rain gauge, so I might as well get the year's total up. There's a bit of uncertainty, due to estimates from snowfall, but we were well above long-term normal precipi ... tation for the year. Now, around here, there's plenty to keep busy with. The dishes are done, Marcia's got the laundry going, and I'm going to gear up to do some more wall work in the two rooms under remodel.
---
Mon Tues Wed Thu Fri SATURDAY Sun
January 2, 2010
1957 - Progress today. I sanded and wiped down the walls in both remodel rooms. Then I texture coated the new guest room with most of a three gallon bucket of drywall mud. I also topcoated my spackle job in the new upstairs sitting room. The latter will be ready for some wall and trim sanding, as well as corner re-caulking, tomorrow. I may even get to that. I'll do some reading tonight, I think, since I gave last night to Ravenholm and Highway 17. Ciao!
Current Listening: Bill Bruford - Feels Good To Me.
---
Mon Tues Wed Thu Fri Sat SUNDAY
January 3, 2010
1949 - No remodeling progress at all today. Shopping in the morning, computer maintenance thereafter. Late lunch out with friends, then a belated Christmas thing over at their house. I've now caught up on my Woodsmith's Shop viewing, and I'm now psyching myself up for a full work week (at work), the first in a while. Somewhere underneath it all, I feel like I'm coming down with a bug, or at least, trying hard not to. C'est la vie.
---
Our condolences to the families and units of the fallen.
Spc. Jason M. Johnston, 24, of Albion, New York, died Dec. 26 in Arghandab, Afghanistan, of wounds suffered when insurgents attacked his unit with an improvised explosive device.
Staff Sgt. Ronald J. Spino, 45, of Waterbury, Connecticut, died Dec. 29 in Bala Morghab, Afghanistan, of wounds suffered when he was shot while unloading supplies.
---
Last Week << Mon Tues Wed Thu Fri Sat Sun >> Next Week
---
Visit the rest of the DAYNOTES GANG, a collection of bright minds and sharp wits. Really, I don't know why they tolerate me <grin>. My personal inspiration for these pages is Dr. Jerry Pournelle. I am also indebted to Bob Thompson and Tom Syroid for their patience, guidance and feedback. Of course, I am sustained by and beholden to my lovely wife, Marcia. You can find her online too, at http://www.dutchgirl.net/. Thanks for dropping by.
All Content Copyright © 1999-2011 Brian P. Bilbrey.



Except where otherwise noted, this site is licensed under the
Creative Commons Attribution-Noncommercial-Share Alike 3.0 United States License.